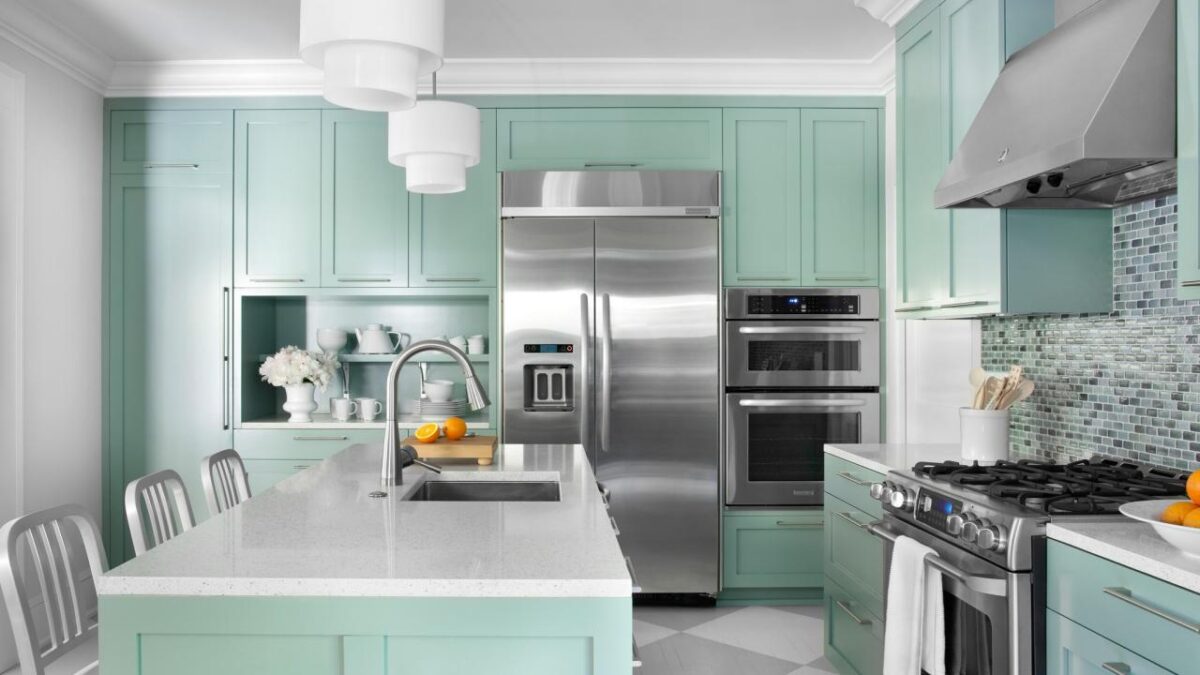 New Kitchen Colors That Will Match Your Personality and Style
Adam Mosley, 2 years ago
3 min

read
697
Luxury kitchens use top-quality materials, feature modern technologies, and employ optimized space planning. However, a wrong color palette can break that lavish vibe. If you visit a kitchen design center near you, you'll notice how color themes can change the look and mood of any kitchen.
Want to have a luxury kitchen? This article should make things more convenient for you. Check out these eight must-know kitchen color-related tips.
Consider your overall theme. Your choice of color will be dependent on the overall theme you're trying to achieve. If you want to have a coastal kitchen theme, blue-and-white combinations are the most common choices. If you want a modern farmhouse theme, the use of stained woods and off whites are a perfect mix. Your color palette should include black, bronze, and even copper hues if you want an industrial look.
Visualize your kitchen five years from now. Designing your dream kitchen is a major investment. Decide on a color theme that represents your style with longevity in mind. In terms of durability, we recommend visiting a designer kitchen and bath showroom near you and ask those experts to recommend paint finishes to protect your surfaces from stains, spills, and other blemishes.
Take into account the adjacent rooms. Luxury kitchens should allow for a cohesive look of your home's interior. Choose colors that transition well into the adjacent rooms. This is especially crucial if you have an open or semi-open layout. If you don't consider the palette of surrounding spaces, your kitchen interior will look uncoordinated and unpleasant.
Find clues from already existing palettes in your home or neighbors' homes that have impressed you. For example, when you visit a kitchen design center, you may observe how countertop and cabinet colors complement the colors of the wall and the flooring. If you already have new appliances, and countertops and flooring materials installed, take a cue and match your decorative color theme to them.
Don't go overboard with your color selection. Typically, you should only have two to three dominant colors in your kitchen. Too many conflicting colors can make your kitchen look cramped and cluttered. The most popular luxury kitchen color combinations include blue-gray/silver/gold-white, brown-and-white, cool gray-and-white, red-and-white, black-and-white, black-and-brass, and green-white-gold. If you're adding wall decorations, make sure that their color also complements your main palette.
When in doubt, opt for white. White is a classic kitchen color. It screams cleanliness and elegance. It's also flexible and can be paired well with the colors of your countertop, appliances, and flooring. If you're not quite sure how you'll dress up your luxury kitchen, white is your safest choice.
Consider your light sources. If you ask any professional kitchen designer, you'll learn how natural and artificial light can affect how you perceive colors. Make it a point to test a few paint samples and see how they appear with thelight sources you have in your kitchen. Then, to make the most of your color palette, invest in a well-designed lighting system as well.
Visiting a designer kitchen and bath showroom committing to paint colors and materials will pay dividends. Working with a luxury kitchen designer to develop the right color palette is a great suggestion for the homeowner that lacks color selection skills. Consult with a pro to make sure that your vision can be translated into a kitchen you will love. It's your dream kitchen. Don't fall short of achieving your dream by not planning properly.
Related posts