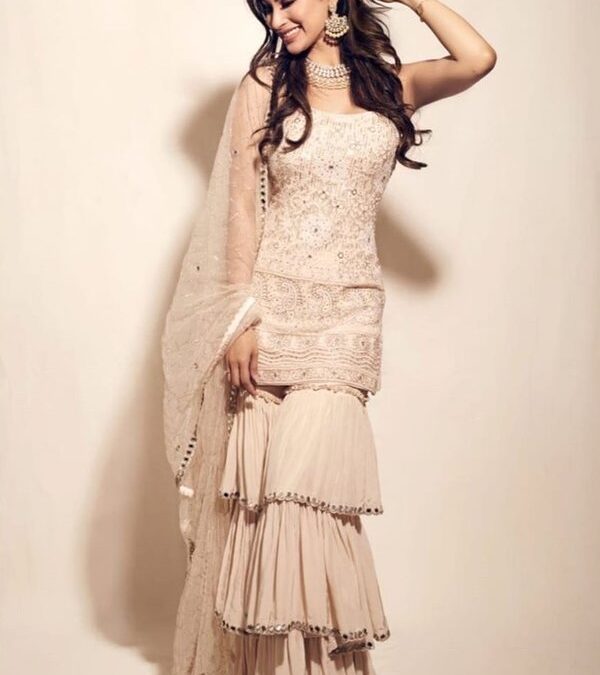 Every wedding season, sharara suits are always on trend, and their beauty and elegance are undeniable. Sharara suits are suitable for family events and the festive seasons. In the market, you would find several sharara styles that are simply breathtaking. But how do you find the best sharara suit according to your preference? 
Check out these tips on finding the best sharara suits, and then buy as many as your heart desires!
Do Your Research
Before purchasing any suit, the first step is to research a lot. It would be best if you look through various options before settling on a single suit you will be wearing at different events for a long time. For research purposes, you can look into different shopping websites and then move towards social media pages and personal blogs about brands providing the best sharara suits, or go around shops and look for anything you like. 
Looking through all these ways will make you aware of the different styles you could choose from and your available options. Once you have had your research and feel satisfied with the knowledge and ideas gained, you can choose the style of sharara suits you prefer. The entire research process aims to find the best suit you would love instead of settling for something you may not like later. 
Pick the Colour and Style
Before purchasing any outfit or sharara suit, you must be certain about the colour and style. You can then look for that specific style in trend or something that suits you the best. Some of the best combinations include a short Kurti with sharara pants. 
While selecting colours, you always choose the colour that will go well with the certain kind of event you may be purchasing for. If you purchase a sharara suit for a day event, going with pastel or neutral colours such as blush pink, sky blue, white, or cream would be more suitable. Although, in the case of a formal event or a wedding, the colour red or any other darker tone could be more suitable. More importantly, you should pick a colour that best complements your skin tone. 
Choose Suitable Fabrics
In any garment, one of the most crucial aspects is the fabric. If you want your sharara suits to be more breathable and comfortable, you can go for cotton fabrics. However, if the event that you are purchasing the suit for is formal or some sort of celebration, it would be better to go with silk or georgette fabrics. 
Go for the Proper Fit
When finding the best sharara suit, you must pick one that fits you. If you are purchasing online, you can ensure whether the garment has a return policy if you get the incorrect size. If you purchase from a physical store, check the sizing beforehand. 
However, if you are getting your sharara suit tailored, you must ensure that the right measurements are taken and that the sharara enhances your look instead of making you baggy. But what if you like a sharara suit that does not fit you? Then you must ensure that you get the suit altered to ascertain that it fits you. The right sharara suit would be neither too loose nor tight, so you can look for the one that fits just right. 
Conclusion 
Purchasing the right sharara suit is imperative for how you want to present yourself. The above-given tips are significant while looking for the best suit of your dreams. So, when buying your next sharara suit, keep all these tips in mind to find the best one.
Related posts