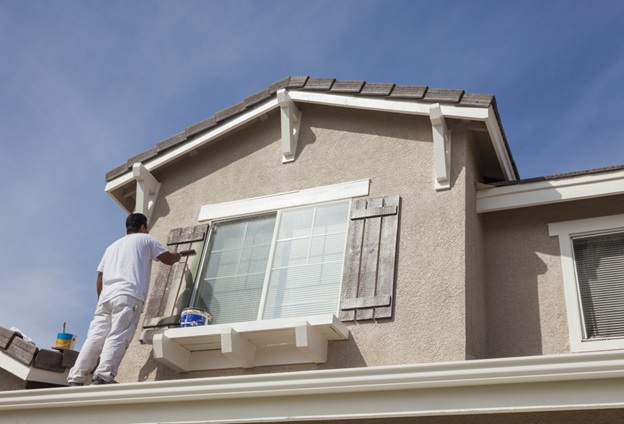 How to Choose the Right Paint Colors for Interior and Exterior Painting
Kim Renner, 1 month ago
3 min

read
381
Are you thinking of business or home painting?
Home and business image stands high when it's painted with beautiful colors. They make products stand out and boost the mood of consumers. However, choosing the right paint colors is a complicated task.
There are thousands of available colors to choose from. How do you choose the perfect paint color for a room or outdoor space?
Fortunately, this guide highlights tips on choosing the right paint colors. This guide highlights the basics of interior and exterior painting.
Create a Color Scheme That Matches Your Home's Furniture
When choosing paint colors for your exterior and interior painting, consider the color scheme of the home's furniture. Bright colors, such as reds, oranges, and yellows, add warmth and give the room a vibrant and inviting feel.
Cooler colors, such as blues, turquoises, and grays, provide a calm and soothing atmosphere. White can also be used to brighten up any space, along with lighter shades of beige, gray, and green.
Consider the colors of the home's furniture to ensure a consistent overall color scheme. Comfort and style should be taken into account when painting the interior and exterior of a home. 
Decide on the Finish to Create an Appealing Visual Effect
Whether indoor or outdoor, glossy surfaces create an atmosphere of elegance and magnificence, while matte creates clarity and simplicity. Additionally, high gloss paints offer durability and quick-drying qualities which is a great choice for trim and cabinets that experience a lot of wear and tear.
Semi-gloss is a good middle ground for a modern and sophisticated look that will stand the test of time. Satin is an excellent choice for busy areas like a exterior doors and shutters since it can prevent wear and tear while creating a mild sheen. Finally, flat finishes are best for walls because it offers a matte look with enough sheen to hide imperfections.
Make Small Spaces Feel Bigger or Cozier
Light, neutral colors, such as off-white, beige, and light gray, are ideal for creating an airy, open feel. Bright, vivid colors should be used sparingly to avoid making a room feel cramped or overwhelming. For example, you could paint the walls and ceiling a light color, and add a feature wall painted in a single, eye-catching color for an interesting contrast.
For added warmth and coziness, earth colors such as browns, tans, and reds can be good options. If you'd like to make the room feel more expansive, you can use vertical stripes or chevron stripes painted in slightly darker and lighter shades of the same color. 
Create Flow in Open Plan Spaces
It's best to choose one main color, one complimentary or secondary color, and a few accent colors. For open plan spaces, choose colors that are adjacent to each other on the color wheel to create a pleasing transition between rooms.
If one area is more formal, use deeper colors while lighter, brighter colors can be used in areas for informal activities. Consider the color of the floors, furnishings, and existing décor. Choose paint colors that will create the feeling of space and movement, but avoid shades that may clash. Consult Deanosdeluxepainting.com to know which of these ideas is possible for your home.
All About Interior and Exterior Painting
Choosing the right interior and exterior painting can be difficult, but the right paint colors can make a big difference to your homes interior and exterior. When in doubt get the advice of a professional color consultant, who can guide you to the perfect selection for your home.
Visit our main blog for more informative articles!
Related posts