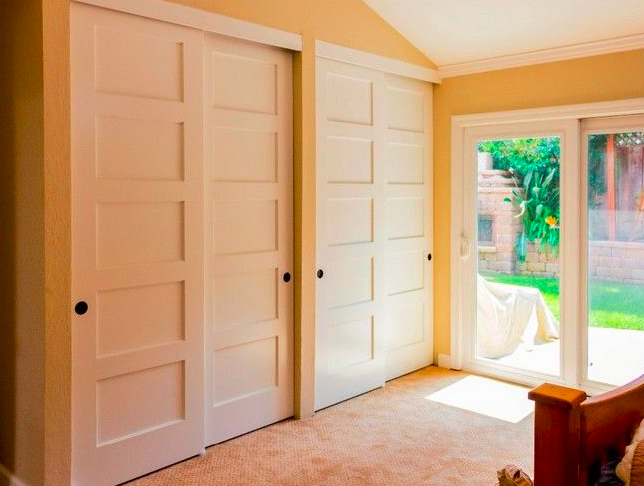 How to Choose The Right Bedroom Door
Clare Louise, 3 years ago
3 min

read
782
The door is the method of introduction and first impression before entering a house or room, that is why it must be chosen according to its finishes and materials, to combine with the environment and provide security and isolation. At SGDoors, we advise you so that you can choose the doors for your home, whether indoor or outdoor.
For a long lasting and peaceful sleep, a soundproof room is very important. When it comes to that, then it is for sure that you will need to install a door with perfect soundproofing abilities. This is where you should select the best material and qualities when it comes to your bedroom door. 
When you are choosing a bedroom door, then you need to have a proper idea of the whole process. After all, it is not as simple as ordering the door from the online sites and making it installed with the help of a handyman. The combination of factors have to be considered – interior design genre, size, colour, material and patterning.
It is important to keep in mind that that the style of door should be matching with the style of the bedroom. If you see that the default doors are there only, then it is for sure that you need to talk to the company for the proper customization of your bedroom door. It needs to match with the style and the door of the bedroom.
Installing a Bedroom Door
Here are the matters of importance that you need to keep in mind when you need to install the bedroom door:
Ask the relevant questions with the workmanship, quotes, portfolio and warranty.

You can use solid or hollow doors. The hollow doors are for the time when you do not need soundproofing, and occasions and venues you need it, grab on to the solid door.

Then you should also have the fitting added accessories that you can go for.

Wood is quite a timeless material for your interior doors and it is still a great favorite. The important thing is to use quality wood, either natural or well treated, depending on aesthetic tastes. As for the types of wood ideal for interiors, some such as beech, cherry, cedar, oak or walnut are versatile, they adapt to many types of spaces and color combinations.
How to choose an interior door?
Interior doors have the function of separating areas of your home to create privacy between one room and another. In addition, depending on the material and type of door, they can become good thermal and acoustic insulators.
Interior door material
Wooden doors: there are solid wood interior doors such as radiata pine, also plywood and other processed woods, such as HDF (high fiber density) and MDF (medium fiber density). All of them undergo a lacquering process, the more layers of lacquer it has, the more resistant its finish will be.
Swing doors: It is a one-leaf swing door, but it has the characteristic that it moves from one side to the other with just a push, and it always returns to its place to stay closed. They do not have a handle or lock, and are generally used to go from the kitchen to the dining room.
Sliding door: They are those that use a rail in the lower or upper part of the opening to make them slide. They do not need space to turn, nor do you have to do extensive work to install them. They are a very useful solution for small rooms or simply to save space.
SGDoors is a trusted bedroom doors supplier for home doors in Singapore, check out their website for types of door and door services today.
Related posts