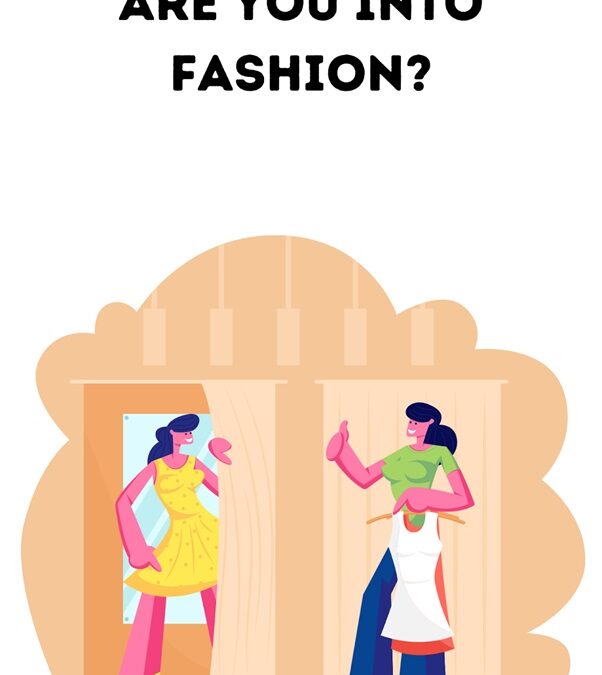 Do you have that one film you would watch over and over because the characters were relatable and the story was not like anything you have seen or watched before? With your deep admiration for the film, did you scour your wardrobe to find the same outfit that your favourite character would wear? If so, it may be you are into fashion today or have been wanting to! The fashion industry is one of the hardest and most crowded among the industries today. While it may sound disheartening, it is not. It means that you would have plenty of chances to break into the industry. People often think that you can only be in fashion when you graduated with a degree in fashion. But, tides have changed. Getting into fashion no longer seems like an elusive dream. Some institutions offer
design courses in Singapore
that can equip you with the necessary knowledge and skill set. With these, you can attract and get credibility to start a fashion blog, freelance for online fashion magazines, or even start a clothing line! Before you go thinking about creating a fashion app or building a resume to send to employers, take a step back and think about what you have right now. What can you offer? As a recent grad or career-switcher, you need to be prepared first. Let this article provide you with all the information you need to know about the advantages of being in fashion and finishing design courses!
Why Choose a Career in Fashion? It is no surprise that the fashion industry attracts hundreds of graduates every year. The fearless industry encapsulates the modern attitudes that the youth crave: fun, fierce, and fast-paced! However, not everyone is qualified to be in it, but it does not mean you should lose your chances when you enter a
Place and Train Programme
that qualifies you to perform job roles in the fashion and textile sector and its related industries. So, why should you give yourself a chance?
A broad range of positions available When you think of fashion, it does not all boil down to wearing clothes. It is
making
them. From the production of raw materials to the retail sector, you can choose many job positions that you think you are capable of executing. You can choose from:
Fashion designer
Upholsterer
Sample machinist
Pattern graders
Stylist or personal shopper
Production manager
Analytical textile technologists
Project scientists
It is a different day every day There are many words that you can use to describe what it is like to work in the fashion industry but it will never be mundane. You will get a taste of this when you get a fashion designer course in Singapore. Get acquainted with the environment you will be working in and experience the exciting days when dedicating your life to a career in fashion! Meet hundreds of people In fashion, making contacts is highly important. When you know many people, you open doors to a world of opportunities that you may even go abroad! For some, they are already equipped with the communication skills to befriend strangers, but it is never too late to learn. Remember that this is the skill that would help you foster strong working relationships. So, brush up on your experiences and story-telling skills! Like many industries, it is necessary to start at the bottom and work your way to the top. While some people would think that this is a bad thing, they might not have the same means to start their career in fashion. With the many resources available today for niche fashion sectors, such as getting a product design and development course or designer courses you can get a head start on achieving your dreams.
Getting Started: How Design Courses in Singapore Help? There are many professions for which earning a degree is non-negotiable, but the creative industry of fashion is not one of those. You might say that being creative is innate but it does not mean you no longer need to organise and polish those talents. What helps in learning how to sort what you can do and cannot do in designer courses is that you will establish a structure that allows you to be efficient in your future career. The question that might be running in your mind is, how does investing in educational diplomas, advanced certificates, among other masterclasses help in starting a fashion career? Here is how:
Stand out from the crowd Yes, everyone is unique, and fashion employers know that. But, what makes you stand out is how you apply your knowledge and skills in practice. Bachelor degrees are not the only thing that employers look at when they receive applicants. They also look at past experiences and expertise, knowledge on changing trends, and work ethic. If there is one programme that can give you all of that, it is the design courses in Singapore! Familiarise yourself with the atmosphere As mentioned, the fashion industry is one of the fast-paced industries today. When you come from a corporate job, you will experience a culture shock. You will no longer have days where you can take a rest during lunch break because you might be eating outside, buying new fabrics or meeting new clients. You will get to meet new people who are bossy even if they are not your boss. To avoid culture shock, preparation is the key. The expert people you will meet in your designer course will help you prepare for that kind of environment. Trust that you will be ready on your first day in your new fashion job and the days that will follow that! Improve your creativity Talent can only take you so far, but when you know how you can use it to materialise your ideas, you are putting it into good use. When you think about creating clothes, you know that it starts with an idea and puts it into drawing, then producing it. Fashion is a visual art. It is a creative expression that goes beyond clothes because it does not stop when people wear them. Hence, you can expect to use more of the right side of your brain when you enrol in a fashion designer course to enhance your creative skills! Develop merchandising skills If you do not plan to work under an employer, the designer courses will also focus on developing your merchandising skills. It entails in-depth product knowledge on fabric, design, product development, and many more. Make sure that you enquire about the inclusion of the course you will take so that you can know what to expect in your classes. Make you ready to market your products Clothes do not sell themselves. As far as the expression goes, it takes the right marketing skills to make significant sales. Many aspects need to be considered before you can call a fashion line successful. As someone who is only starting, you have to ensure that you get ROI for your product investments, and you will learn that in your
product development course in Singapore
. To ensure that you get them, you must know how to market your products. Marketing is a broad term, and it is more than knowing the trends. What you will get from your course is retail merchandise buying, branding, creating a sustainable value chain. These will help you know the strategies of making a sale! Create a sustainable business model According to a
2021 report of the World Economic Forum
, the fashion industry makes up about 5% of global emissions. Hence, everyone in this business sector is encouraged to come up with sustainable business models. A business model is how a company creates value for itself while delivering products and services for its customers. To make it a sustainable one, it must capture economic, social, and environmental value for a wide range of stakeholders. While it may sound technical, you will learn how you can make your business sustainable in your designer courses in Singapore. You will meet people who are well-versed in the industry. They would not hesitate to show you the ropes so that you can do something you are passionate about for a long time!
Tips in Choosing a Specialisation Whether you're planning to run your own business or work for an established fashion company, you must stand out as a professional. In simple words, you have to know your niche and build on that identity. In fashion, it is better to be a master of a single niche than to be a jack of all trades. It will be easy for you to attract customers, rather than try to please all audiences by designing or creating many products. To help know what to pursue between a fashion design course or product design and development course, or what other relevant courses available, follow these tips:
Remember your interests Do you like wedding dresses and bridal wear? How about swimsuits? These are two completely different fashion business sectors that you can choose from when you enter fashion. What are you most passionate about? Maybe it is not clothes. It may be handbags! Before making that choice, remember where your interest lies. It would be the first step in choosing a specialised career in fashion! Identify your strengths and weaknesses Doing some self-exploration about your strengths and weaknesses will help you gain an idea of what Place and Train Programme you must take. Think about each process that makes up clothing. Would you rather be in product development or drawing a clothes design? These are the types of questions that can help you identify your strengths and weaknesses so you can start from there! Do not be afraid to try new things When you have been focused on bridal wear for as long as you remember, try to delve into swimsuits. What delving means is feeling the waters, dipping your feet just beyond the surface. You do not even need to go deep into it. All you need to do is take a shallow dip and see where the waves could take you! Put yourself out there Maybe one of the reasons why you have not found your niche yet is because you are caging yourself in one fashion business sector. Well, when you get to look at the fashion designer course that business education institutions offer, you will have an opportunity to meet people outside your comfort zone. It might be a connection that will help you see all the cards in the deck. One thing at a time Despite being a fast-paced industry, you do not need to keep up with them all the time. Remember that everyone has their own pace, but it does not mean that you are slow. What may humble you is knowing that all fashion tycoons have been in your position when they were only starting, so why shouldn't you? Do not stress yourself out and take one step at a time.
Where to Apply for Design Courses in Singapore? Go to TAFTC! Not everyone has the means to make their childhood career dreams come true, so you must not waste that opportunity only because you are afraid. When it comes to finding your place in the fashion industry, you can count on many people who would be happy to help you out, and they are in a training centre waiting for you to take that first step.
Textile And Fashion Training Centre (TAFTC)
is a training institution dedicated to people who have aspirations to break into global fashion. They have specially designed courses and programmes that promise to equip you with the knowledge and skills to work in a highly competitive industry of fashion. With their intensive fashion designer courses in Singapore, you would be living your dream in no time!
If you want to know more about their unique and professional training programmes, you should check out their website. Do not forget to send them a message to know how you can apply for their courses today!
Related posts