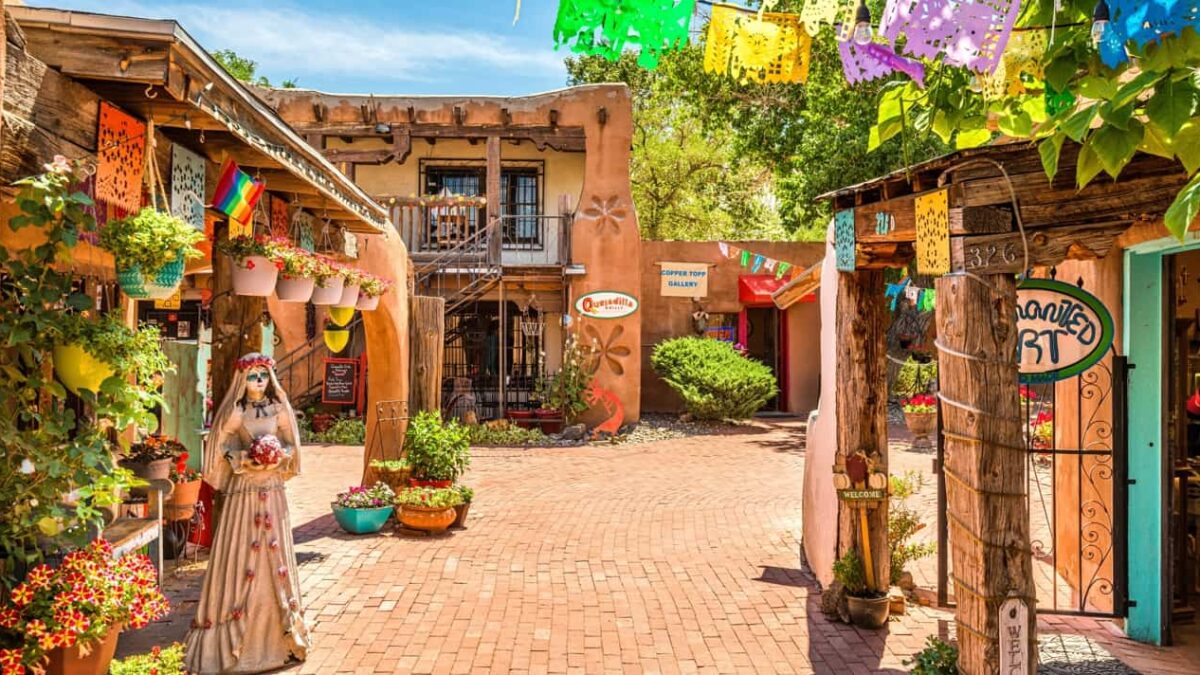 Exploring the Charm of Old Town Albuquerque
Nancy Lyles, 9 months ago
4 min

read
273
Just a few miles north of the metropolis of Albuquerque awaits a charming area of its own. Old Town Albuquerque is an area that dates back centuries and has been artfully preserved to hold onto the beauty of the past. If you're looking for a charming escape, these charms in Old Town are sure to wow you:
Explore the iconic architecture steeped with history that dates back centuries
Old Town Albuquerque is an incredible destination for visitors wanting to explore the rich history and storied landmarks of the area. Centuries-old churches, such as San Felipe de Neri Church, can be found here; in fact, it has been standing since 1706! Furthermore, St. James Hotel, built in 1882 and known as one of the oldest hotels west of the Mississippi River, still stands here, and its Victorian-era ornamentation is nothing short of breathtaking!
Whether you plan on taking in the sights or visiting an array of unique shops, like traditional art galleries or boutique stores with authentic wares from various Native American tribes in the area, Old Town Albuquerque is certainly worth exploring.
Shop around one of the largest Native American jewelry marketplaces in the US
If you're looking for a truly unique shopping experience, look no further than Old Town Albuquerque. Here, you can wander through one of the largest Native American jewelry marketplaces in the United States and find yourself truly immersed in the culture.
Traditional silverwork, hand-crafted pottery, and intricately woven textiles line colorful stalls – each adorned with items of their own making. Whether you're in search of rare finds or souvenirs to take home, a trip to Old Town Albuquerque is sure to be a memorable experience! Plus, exploring the quaint cobblestone streets provide an enjoyable sightseeing tour in itself.
Explore local Mexican eateries and Latin street food
Exploring Old Town Albuquerque can be an engaging experience for anyone interested in Mexican and Latin cuisine. The area is filled with delightful eateries, each offering something unique.
You can find traditional Mexican dishes cooked up with recipes passed down from generations past or perhaps the latest street food trends with a Latin flair. Tamales are a highlight of Mexican cuisine found all around this area, accompanied by a large selection of fresh tacos that always hit the spot. To really get a taste of authentic Mexican and Latin cuisine, visiting Old Town Albuquerque should not be missed.
Stay out late by enjoying some live music on any given night
Old Town Albuquerque is a charming destination that provides plenty of opportunities for great nightlife. There are numerous live music events hosted throughout the year, giving visitors the chance to experience a diverse array of genres from jazz and folk to rock and blues.
The area also hosts outdoor movie screenings and art festivals, providing even more ways for guests to enjoy their time in Old Town Albuquerque after dark. For those looking for an evening full of music and culture, Old Town Albuquerque is sure to offer something delightful.
Explore some great art galleries with distinct West Coast vibes
Old Town Albuquerque is a great place to explore some of the unique art galleries found on the West Coast. There are styles from many different epochs and genres to choose from, as well as cozy indoor seating for visitors to take in the creative artwork. One can find traditional southwestern pieces, vintage items, and even local contemporary creations.
Whether you're looking for a piece for your home or just want to browse for a few hours, the galleries of Old Town Albuquerque are sure to have something that will inspire you. Check out historic Plaza del Cerro on San Felipe Street and don't forget to pick up a souvenir or two while visiting these remarkable galleries!
If you're thinking of making Albuquerque your home, look no further than Old Town, where a mortgage lender can help to make it a reality. With over 400 years of history and an array of exciting and charming experiences, Old Town Albuquerque is truly one-of-a-kind. Whether you're visiting the Rio Grande Nature Center State Park or wandering through the shops and restaurants down Central Avenue, there's always something new to explore here. On top of that, many mortgage lenders in Albuquerque will work with you to find the best mortgage terms to make your home ownership dream come true. All these special charms make Old Town Albuquerque a great place to live.
Related posts