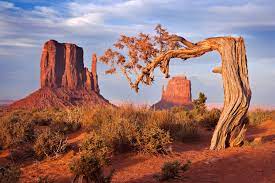 Experience Utah Like Never Before: Travel Tips for the Adventurous
Nancy Lyles, 2 months ago
4 min

read
104
Utah, often referred to as the 'Beehive State', is a treasure trove of diverse geographical features that cater to every adventurer's whim. Nestled in the heart of the American West, it is characterized by its stunning array of landscapes – from the striking red-rock formations of the Arches National Park to the snow-capped peaks of the Wasatch Range.
In this article, we will explore the top places to visit in Utah and provide travel tips for those looking to experience this beautiful state like never before.
Essential Pre-Trip Planning
Before you embark on your journey, it is important to plan accordingly. Make sure that you research each destination so that you will know what to expect when you arrive. Additionally, be sure to pack appropriately for the activities and weather conditions in the area. Sunscreen is a must – even during the winter months!
When it comes to lodging, there are many options available. Camping is a popular choice due to the abundance of public campsites throughout the state. There are also resorts, cabins, and lodges that offer more luxurious accommodations.
Finally, it is important to keep safety in mind as you travel through Utah. Be aware of your surroundings and take precautions when hiking or engaging in other activities outdoors.
Exploring the Landscape of Utah
Utah is home to five national parks; Zion, Bryce Canyon, Arches, Capitol Reef, and Canyonlands. Each park offers unique beauty and awe-inspiring views. Whether you plan on taking a day hike or camping out for an extended period, these parks are sure to leave you with lasting memories.
For those looking for a more relaxed atmosphere, Utah provides plenty of sightseeing opportunities outside of the parks. From the wide open spaces of Monument Valley to the awe-inspiring formations of Goblin Valley, the state has something for everyone!
If you're looking for a cozy spot to stay near Zion National Park, consider renting one of the many cabins near the area. From rustic lodges to luxurious estates, there is something for every budget and taste.
These are just a few of the amazing places to explore in Utah. Whether you are looking for adventure, relaxation, or something in between, this state has it all!
Top Adventurous Activities in Utah
From canyoneering to rock climbing, Utah has some of the best outdoor activities available. For those looking for a thrill, consider taking a guided tour through slot canyons or rafting down the Colorado River. Other popular activities include backpacking and mountain biking through some of the most scenic trails in America!
If you're feeling particularly brave, you can even take a hot air balloon ride over Utah's amazing landscapes. This is an experience you won't forget!
No matter what activities you decide to partake in, make sure that you wear the appropriate clothing and gear and follow all safety guidelines. As long as you do that, your journey through Utah will be one for the books!
Making the Most of Your Utah Vacation
Utah is a great place to visit any time of the year. During the winter months, you can experience skiing and snowboarding at one of the many resorts in the area. In the summer, there are endless opportunities for outdoor recreation – from hiking and biking to fishing and boating.
If you're looking for a unique cultural experience, be sure to check out the many local festivals and events that take place throughout the year. From music festivals to art shows, there is something for everyone!
Utah is a captivating destination that will leave a lasting impression, no matter the season of your visit. Prepare yourself for an unforgettable exploration of all the wonders this beautiful state has to offer and create cherished memories that will endure a lifetime.
Conclusion
Utah is an amazing destination for adventure-seekers of all types. From the stunning natural beauty of its parks to the unique cultural experiences available, there is something for everyone in this stunning state. Be sure to plan and pack accordingly – and most importantly, have fun! With these travel tips in mind, you are sure to have the trip of a lifetime. Happy exploring!
Related posts