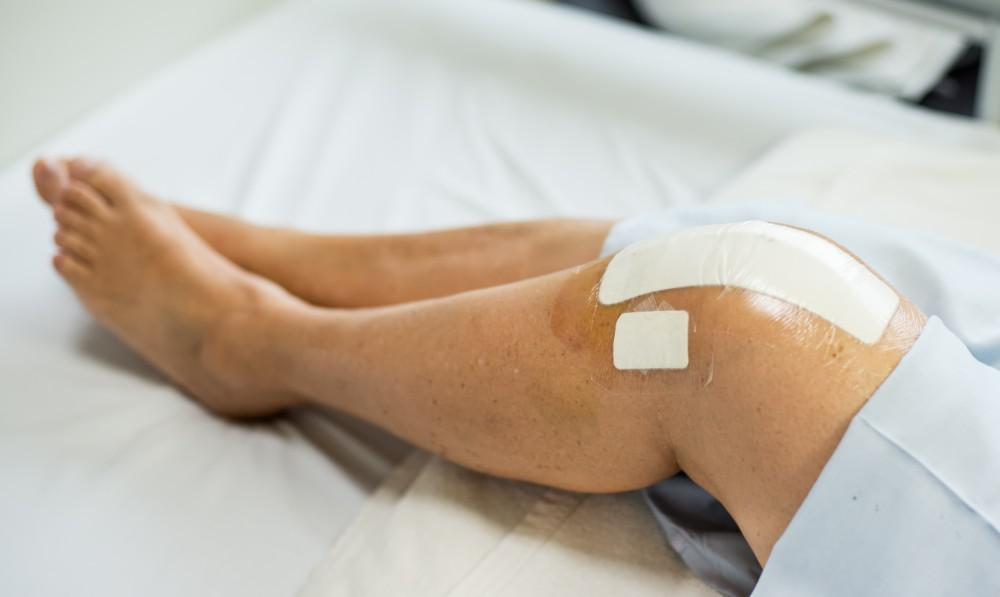 6 things to avoid post knee replacement surgery
Clare Louise, 2 years ago
4 min

read
513
Post knee surgery can be a difficult time. Without normal use of muscles or movement – it can feel disconcerting, and often extremely painful.
The good news is there's a time limit on the pain and discomfort – and with the right strategies, you can overcome your post knee surgery without any major mishaps.
Your doctor, surgeon, or physiotherapist will often tell you plenty about what you should do in order to regain your normal muscle function post knee surgery. They will also tell you a few things to avoid, but in case you forget, here are six important things to remind you what to avoid post knee surgery.
1. Avoid walking too early
There's nothing worse than hearing stories of inflamed knees post operation. Walking too early or without the right support can be detrimental to your recovery process and even cause more harm than good.
With that said – this isn't to say that walking is bad. You need to strike a balance in your routine and ensure you're attempting the right amount at the right intensity and with the correct supports to avoid scenarios where your knee becomes inflamed and your pain skyrockets. Always check in with your physio to be clear about when and how much you should be walking around.
2. Avoid fast movements
If you're a sporty person – recovery from knee surgery can feel long and cruel. Refraining from heavy exercise can feel especially debilitating – and can even have a toll on your mental health.
Unless the walls are crashing in around you – try to avoid fast or sudden movements that could put stress on your new knee and the muscles and tendons around it. This is especially true in the postoperative phase – and in the early recovery phase. You should only be engaging in fast movements in an emergency – or if you're at the stage where your physio has recommended it.
3. Avoid messy and slippery floors
Yep. Sounds simple right? But you'd be surprised how many people forget to eliminate tripping hazards in their home after knee surgery and ultimately set back their recovery time by weeks, if not months, by taking a fall. This is always unfortunate for those who have done everything else right and forgot to pick up the broom or box from the living room floor. Always be careful about where you step – slippery bathroom floors are also a no-go zone.
A nasty fall could mean the difference between a 12-month recovery and a 6 month recovery period.
4. Avoid skipping exercise
This is one of the easiest traps to fall into. The non-exercise trap. It's so easy to get into the mindset that you need to 'baby' your knee and protect it from the world. But this can actually prove more dangerous than actually engaging it in exercises that will strengthen your muscles and tendons over time.
Avoiding exercise will leave you with a weak knee that will be prone to further injury and harm. Always observe your exercise routine and stick to the plan made by your supervising healthcare professional.
5. Avoid driving until you're ready
It's always tempting to jump back behind the wheel as soon as you 'feel' ready. Unfortunately what you 'feel' ready to do and what your body is actually capable of can be two different things. We all live busy lives and getting back behind the wheel can seem like a priority – especially after you've been bed-bound for weeks on end. But driving can be extremely dangerous for anyone who isn't ready to take that step.
Listen to your physio about when to start driving – especially if you're in the early phase of recovery – you don't want to jeopardise your progress by accidentally twisting it the wrong way.
6. Finally, make sure you're communicating with your physio
One of the most important parts of recovery after a knee replacement surgery is effective communication with your healthcare professional. They should always be your number one go-to for information about exercises and tools to help with your recovery. If you're seeing other healthcare professionals – make sure you clue them in on your operation too.
For example, if you know you're suffering from aggravating symptoms or receiving physiotherapy for arthritis, you'll want to inform your physio if you notice symptoms worsening after your operation.
Want to speak to a qualified physiotherapist? Book your appointment today.
Notice your knee is swollen or inflamed? It's always good to get early action when things go awry. Leaving symptoms to worsen can be dangerous – especially if not tended to by a professional.
Make sure you book an appointment with your local Perth Physiotherapist so they can diagnose and provide a plan to help you recover properly.
Related posts