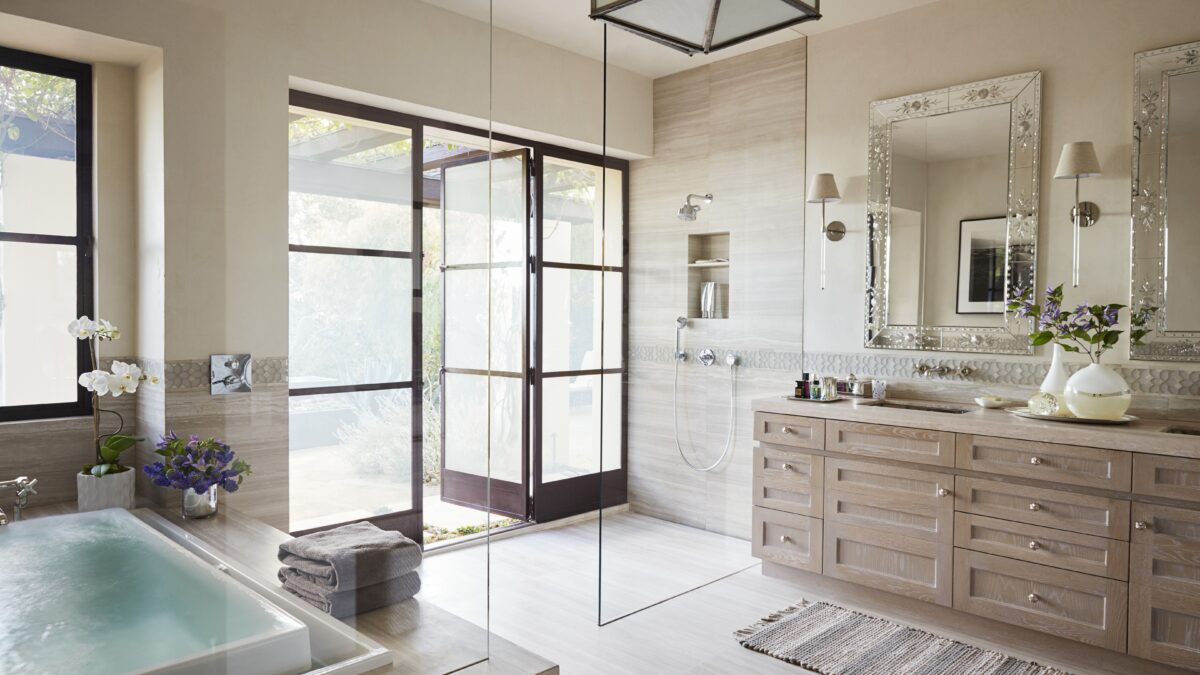 5 Exciting Bathroom Trends for 2023
Kim Renner, 2 weeks ago
4 min

read
52
Turn your bathroom into a place of luxury with the best bathroom trends for 2023. 
The modern bathroom is evolving. Now, it's all about aesthetics and functionality. Once you get the right blend, there's no looking back. 
Naturally, upgrading your bathroom isn't always cheap — especially if you're making some big changes. This is why you need to plan carefully. 
If you feel like you need a helping hand with this, then the guide you're reading right now is specifically for you. Ranked below are the top 5 most exciting bathroom trends for 2023 and beyond. These trends are extremely popular throughout Europe, America, and the rest of the world, so you're in good company. 
What are you waiting for? It's time to find out which bathroom trends are perfect for you!
Have you heard about the vinyl bathroom wallpaper trend? 
For the past 12 months, it's been sweeping the nation and capturing the imaginations of homeowners. 
Vinyl wallpaper is perfect for the bathroom because it's: 
Versatile 

Modern

Stylish 

Easy to install 

Scrubbable and strippable 
The way it works is that it consists of a base with vinyl film layered over the top. This helps to create a thick and durable wallpaper that's perfect for withstanding the high-moisture environment of a bathroom. 
To get started with your vinyl bathroom wallpaper, here are some bathroom wallpaper ideas for you to look at. After browsing through the affordable wallpaper options, you'll be able to decide which one is best for your existing bathroom. Fingers crossed, you'll make the right choice. 
For decades, bathrooms have been traditionally white (or light grey) in order to create spa-like atmospheres when you're inside them. However, black bathrooms have now started to become a major trend amongst homeowners — and we can see why. 
From the shower itself to taps and sinks, making them black is a great way to add a powerful aesthetic to your bathroom that feels truly modern. Best of all, black bathrooms are extremely cozy yet still have that all-important contemporary feel that people know and love. 
Before you do this, though, it's recommended that you experiment with one specific area of your bathroom first. This is so that you can gain an understanding of how the new black aesthetic will impact your lighting. For example, you might want to turn the sink and mirror area (as well as the surrounding décor) black — you should find that it has the desired effect.
In 2023, homeowners are finally ditching synthetic sinks and other dated bathroom pieces for natural and warm materials instead. This is a great way to make your bathroom more welcoming and stylish. 
Some of the best materials right now are stone and wood. For example, stone sinks are becoming a huge craze. It's for a good reason, too, as stone sinks look absolutely amazing and convey luxury (which might be one of the goals you have for your bathroom). 
Remember, you can even go as far as incorporating a stone shower into your bathroom. Natural stone showers are great when it comes to design options and energy efficiency. Not to mention, they feel amazing when you stand inside them. It's almost like you're in a luxury hotel somewhere fancy, which is why so many people are embracing the stone shower trend with open arms. 
Not every home has a bath. However, if yours does (or you have enough space for one), then it's definitely worth adding a freestanding bath in there. 
As the name suggests, a freestanding bath is a bath that stands alone without any supporting wall structure. This is a very modern trend that you see countless celebrities doing, such as Kim Kardashian.  
So, if you want to free up some space in your bathroom and add a modern edge to your home, a freestanding bath could be the missing piece of the puzzle. Just make sure to listen to some relaxing music whenever you use your freestanding bath!
The fifth and final trend to discuss today is smart lights. 
Smart lights are becoming increasingly common in modern homes. Notably, smart lights are being added to bathrooms. 
With smart bathroom lights, you can easily adjust the color and tone of the lights in your bathroom to suit the activity you're doing. 
Let's say that you're taking a relaxing shower at night after a long day. You might want to dim the lights to a dark grey or blue, which you'd easily be able to do via your smartphone (or the device that you're controlling your bathroom smart lights with). 
It's a no-brainer to add some bathroom smart lights to your home, so make sure this trend is near the top of your to-do list. 
Related posts