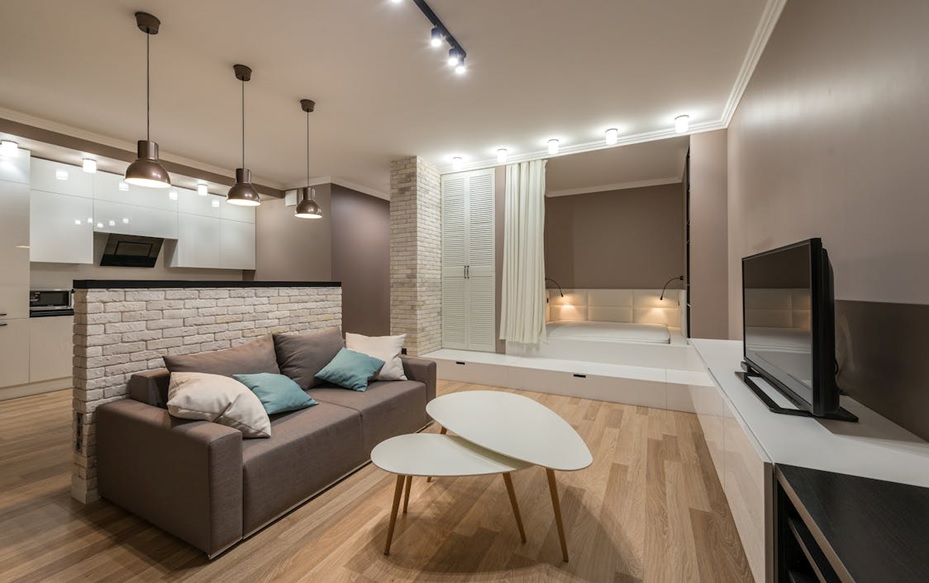 Apartments are now a popular housing option in the U.S. since they provide convenience, location, and affordability. However, the limited space that frequently comes with apartment living can pose difficulties in terms of organizing and storage.
Whether you live in a small studio or a huge two-bedroom apartment, these 5 clever storage solutions can help you make the most of the space available. Learn how to maximize both elegance and ease in your little space by organizing it.
Off-Site Storage
Clever storage solutions can substantially increase your space in an apartment, but what if you find that even after implementing these solutions, you still need more room? In this case, off-site storage options can be helpful. Renting a storage container can be a highly effective way to save seasonal items, huge furniture, or other things that you do not use frequently to make your apartment a more comfortable place to live.
Off-site storage offers a wide range of benefits. It frees up priceless square footage in your apartment. Bulky bags, holiday decorations, or winter sports gear that would otherwise take up valuable closet space can all find a new home in your storage unit.
Reputable storage facilities like All Purpose Storage offer security features such as surveillance cameras, gated access, and individually lockable units. This ensures that your belongings are safe and protected, providing peace of mind for apartment owners concerned about theft or damage.
Vertical Shelving Units
Utilizing vertical storage is one of the most effective ways to make the most of your apartment's space. To store everything from kitchen necessities to books and decorative things, vertical shelf systems are a great idea. To accommodate any apartment design and space restrictions, these units are available in a variety of styles, materials, and sizes.
Floating shelves are the perfect way to display your favorite books, souvenirs, or decorative things in your living room or bedroom. This not only provides a unique touch but also frees up crucial floor space, opening up the area and making it feel more welcoming.
Moreover, vertical shelf systems are a great help in the kitchen. They keep your kitchen staples close at hand by effectively storing spices, cooking equipment, and even pots and pans. Along with streamlining the cooking process, this orderly layout also improves the appearance of the kitchen as a whole.
Vertical storage is attractive not only because it is functional but also because it may be used as a design feature. Shelves that are strategically positioned can enhance the style of your apartment and give it more personality. They can be tailored to your preferred style, whether it be modern, rustic, or eclectic, ensuring they blend in perfectly with your room's interior design.
Under-Bed Storage
Making the most of the area under your bed is a smart storage strategy that is ignored. You can turn this underused space into a useful organizing asset by investing in under-bed storage options like rolling bins, drawers, or storage bags.
You can use them to store away seasonal apparel, extra bedding, or private goods like keepsakes or out-of-season clothing that you do not require daily access to. This makes it easier to keep your bedroom organized and clutter-free.
Moreover, these rolling bins, drawers, and storage bags can assist in keeping things free of dust and insects. These solutions make the most of the available space and also help make living spaces cleaner and more aesthetically pleasing. They are also customizable and versatile, making them appropriate for many storage requirements in bedrooms or even tiny apartments with little closet space.
Multi-Functional Furniture
Multipurpose furniture becomes your greatest ally when you have a small living area where every square inch counts. These adaptable furnishings are made to fulfill many functions, which makes them invaluable for making the most of available space and maintaining the aesthetic and practicality of your apartment.
A couch bed is among the furniture options that save the most room. It serves as a pleasant sitting for relaxing or hosting guests during the day and quickly converts to a bed for sleeping at night. This completely changes how you can host overnight visitors without giving up valuable floor space.
Another clever addition to your living space is a coffee table with hidden storage. While keeping magazines, remote controllers, and other small items hidden inside its hidden compartments, it provides a surface for food, drinks, and decor. This helps you clear out clutter while still maintaining organization and cleanliness in your living area.
You may maximize space efficiency while maintaining design and use by combining multi-functional furniture like sofa sleepers and coffee tables with concealed storage. These items are essential for anyone living in a smaller apartment or trying to maximize their available space since they flawlessly combine form and function.
Magnetic Strips and Hooks
Maximizing every square inch of wall space is essential for preserving an organized and clutter-free living area in a compact apartment. When it comes to your efforts to save space, magnetic strips and hooks can be game-changers.
Magnetic strips can be used in the kitchen, where there is frequently a shortage of counter space. Knives, cutlery, and even spice jars may all be displayed and held securely with the help of these strips. You can create a functional and aesthetically pleasing kitchen workspace by mounting magnetic strips on the kitchen walls, freeing up valuable drawer and tabletop space.
Additionally, in small apartments, magnetic hooks are also useful. They provide a quick and easy way to hang things like bags, measuring cups, ladles, and other culinary utensils. Keys and other necessities can be kept close at hand by mounting magnetic hooks near the entrance, and in the kitchen, they keep commonly used tools organized and accessible.
The variety and simplicity of magnetic storage systems are what make them so attractive. To maximize space and keep a clutter-free environment, you can strategically arrange them throughout your apartment on walls, within cabinet doors, or even on the refrigerator.
Conclusion
You do not have to give up organization and storage space just because you live in a small apartment. You can make the most of your limited space while maintaining the practicality and aesthetic appeal of your living area by putting these storage ideas into practice. There are various methods to make the most of your apartment and make it a more efficient and delightful place to live, from vertical shelving units to under-bed storage and multi-functional furniture.
Related posts