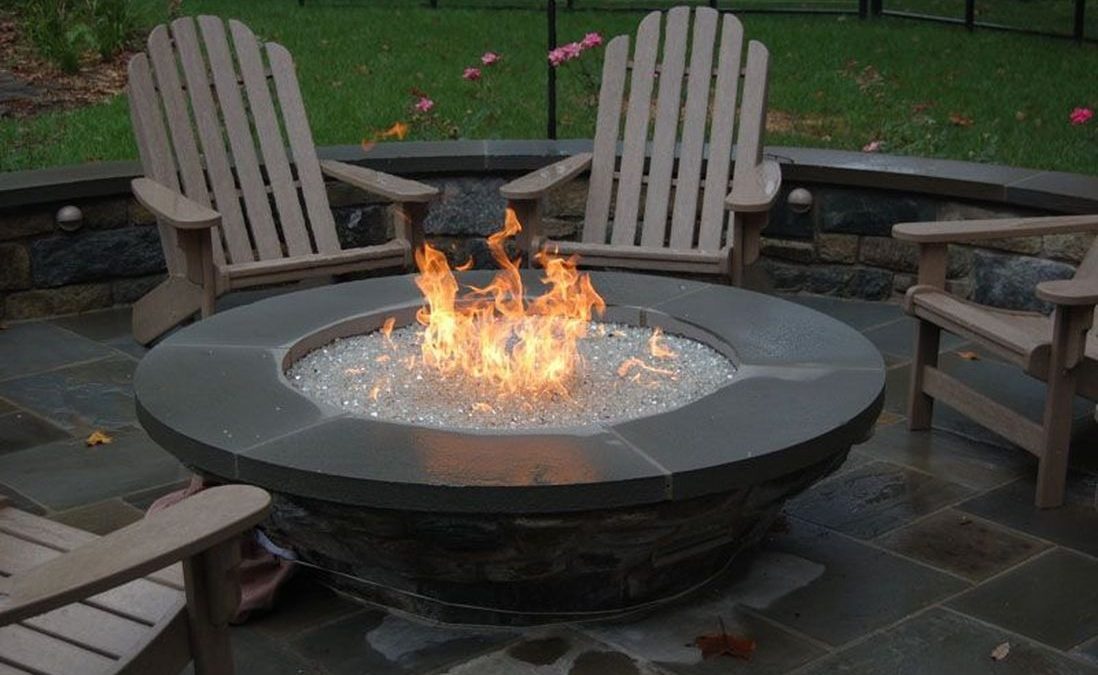 12 Fire Pit Designs You'll Love
Herman Walker, 4 years ago
7 min

read
1289
It's that time of year again. The days are longer, the nights are getting nicer, and your garden is starting to explode. Not looking forward to spending more time indoors? You can enjoy your evenings while also adding warmth and ambiance to your outdoor space with a backyard fire pit. If you're the do-it-yourself type, there are many ways to design and build a safe and attractive fire pit for your yard or patio. If you're looking for something ready-made or portable, there are also many different makes and styles of manufactured fire pits and other outdoor heating devices to choose from. Many wood burning fire pits can also be fitted for natural gas or propane, and can range in size from monumental to table-top. They can be made of brick, metal, stone or concrete, even glass. Today you can find a design to suit any lifestyle or budget. What kind of fire pit are you looking for? We've gathered together a selection of our favorites to tickle your fancy and "fire" your imagination.
1) Classic Stone Fire Pit. You can find many plans and do-it-yourself instructions online or at the library for this very basic, circular stone fire pit. As long as you follow a few very simple safety guidelines, they are very easy to build. They can be made to any size specification but most plans recommend a three foot diameter. If you want a permanent fire pit but not sure where your underground pipes and cables are laid, then this is a good design for you. And you can keep it simple or get as complicated and fancy as you want, with layers and materials. From cinder block to river rock, any way you go you'll have a good-looking fire pit to warm your spirits and liven up those after-game parties this fall.
2) Traditional In-Ground Fire Pit. If this is more your idea of a real fire pit but your spouse is afraid that you'll just go out and dig a big hole in the backyard, tell him or her to relax. With a little bit of imagination you can create a traditional fire pit that's so safe, attractive, and inexpensive that even your mother-in-law will be impressed. A fire pit doesn't have to look like a meteor landed behind your house.
3.) Precast Concrete Fire Bowls. These are really awesome because they're a lot more versatile than traditional fire pits, and your can create some pretty dramatic effects with one large bowl or several smaller ones around a pool or patio. You can burn wood in them or they can be fitted to use natural gas. They're made of a lightweight concrete that's reinforced with glass fiber, and because they're a lot lighter they're also cheaper to ship than something made out of regular concrete. They come in different colors, too, and there are a number of companies who will custom make a fire bowl to your specifications. This bowl's look was created using gas power and special fire pit lava rock.
5) Portable Steel or Aluminum Frame Fire Pits. These are probably the most popular type of manufactured fire pit on the market today. You can find them in the garden department of most any Walmart or hardware store. There are many brand names and designs, and they're popular because they're cheap, lightweight, and definitely a step up from firing up the ole hibachi or smoker to stay warm. They're portable which is cool in case the wind shifts, and they have that screen cover to protect you from those hot flying cinders. The bad news is that because they're cheap and lightweight, they're not going to radiate a whole lot of heat the way stone or cast iron would, plus you're not going to be able to build a very big fire to begin with without destroying it. I can also see someone accidentally kicking one of these over, and personally, I'd stay away from something like this.
6) Steel Fire Pit Bowl. When it comes to manufactured metal fire pits, this is what I'm talking about. Over four feet in diameter and over 150 lbs of 1/4" thick American made steel, this fire pit will keep you and all your guests toasty and there's no danger of this thing tipping over if things get a little out of hand at your next Super Bowl party. The site at The Fire Pit Store has a wide selection of fire pit bowls that you can select from. Most fire pits of this kind can be converted to gas or propane, although converter kits are usually sold separately. This model comes with a rain drain and a lifetime guarantee not to rust through or deteriorate with use.
7) Custom Art Dome Fire Pit. These are some of the most awesome looking and hottest selling fire pits right now. They're made out of a combination of hand-hammered copper, wrought iron and/or steel, and come in a variety of really cool designs. I've even seen one shaped like the Star War's "The Death Star." You can really get them blazing, too, and many designs come with a built-in spark screen. The downside is that you'll need to keep it away from your wood deck or anything that isn't protected by fire-resistant material.
8) Table Top Fire Pit. If you do a lot of entertaining and presentation is a more important to you than keeping your feet warm, then you'll make a real statement at your next dinner party with this table top fire pit. The epitome of noir ambience, it combines form and function into an artistic duo that will turn even a simple bbq into an elegant dining experience. They come in just about any shape, size, or material you can imagine, come in sets that can accommodate as many people as you want to seat, and are usually fitted for gas or propane. There a few wood burning models, equipped with spark screens. We bet those don't sell as well, because we just can't think of anything better than a face full of smoke while we're eating, can you?
9) Custom Made Wood Burning Fire Pit. This patio with its copper and cast iron wood burning pit seems to have been inspired by Dutch artist Piet Mondrian, with its solid color blocks and rigid lines. Simply sensational.
10.) Outdoor Fireplace. If you want something with real Old World charm, how about an outdoor fireplace? They can be wood burning or converted to gas, and again, it can be as simple or elaborate as you want to make it. An outdoor fireplace can be just a singular kiln structure to an entire outdoor living area. Many come in kits, or you could design and build your own. There are also many companies who can custom design something just for you. Fireplaces in general aren't known to be very energy efficient, but you could definitely stoke this baby up and get some real heat going without much worry of it getting out of control. We like this design for its simplicity and DIY potential, and with a little modification it could double as a pizza oven.
11.) Fire Pit Glass. This is an awesome new product: specially formulated tempered glass nuggets to use in your gas burning fire pit instead of the conventional ceramic logs or ugly old lava rock. It comes in about a million colors and looks incredible. The glass rocks are designed to withstand extreme temperatures without burning, melting, or discoloring. They don't smoke, produce soot, and apparently never need to be cleaned. Very eco friendly, but a bit pricey. 10 pounds will set you back about $50 – $60. Just remove your old lava rock and pour it in. Absolute wizardry.
12) Fire Pit Fountain. We threw this one in simply because it's so over the top, and finally, we wanted to make a point that no matter what type you choose, there's no limit to what you can do with a fire pit to create warmth, an accent, or an amazingly dramatic effect for your home. Have fun with yours!
Related posts